Mouse roventi
Gli account di Instagram che ogni uomo dovrebbe seguire
Instagram offre un numero infinito di profili interessanti da seguire ma, fra questi, ve ne sono alcuni imprescindibili per il genere maschile. Li trovate tutti nel nostro articolo.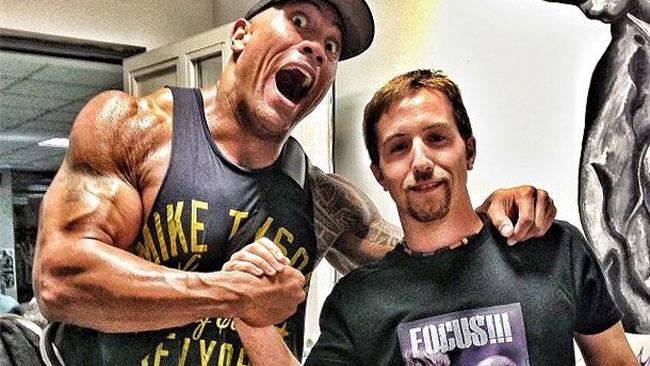 Può essere difficile da credere, ma i social media non sono fatti soltanto di selfie, meme sui gatti e fake news. In rete e, soprattutto su Instagram, ci sono tante cose interessanti da vedere e seguire. Che siano grandi uomini da cui trarre ispirazione o semplicemente profili dove trovare in bella vista tutti i propri interessi, la rete ha da offrire tante piacevoli sorprese!
I profili di Instagram irrinunciabili per un uomo
Di seguito potete visionare una rassegna di alcuni fra i profili Instagram che nessun uomo dovrebbe perdersi! Dal profilo Instagram di The Rock a quello delle birre da ogni parte del mondo, dal profilo dedicato ai maniaci delle armi a quello incentrato sui videogames, avrete davvero l'imbarazzo della scelta!
Aleksandrazee il falegname
Inutile girarci intorno, fare il falegname è una delle attività che esprimono forza e creatività in egual misura, se poi chi lavora il legno si rivela essere una bellissima bionda, chi siamo noi per non seguirla su Instagram? Aleksandrazee è servita!
Un insolito guerriero della strada
"Casa è dove la parcheggi!", questo è il motto di Foster Huntington, amante dei viaggi difficoltosi e imprevisti, soprattutto in montagna. Godetevi un video in cui Foster ostenta la sua "mascolinità dirompente".
La Whiskey Union
Inventori di whiskey, barbuti e vestiti di pelle nera, producono fra i liquori migliori di tutta la Scozia, c'è bisogno di sapere altro per seguirli? Ecco a voi la Whiskey Union!
Wrestling Army
Nessuno può negare che il wrestling sia una delle forme di sport-spettacolo più amate dal pubblico maschile. Nel profilo Wrestling Army gli amanti di John Cena e compagni troveranno pane per i loro denti.
The Rock
L'uomo dalle mille imprese che, partendo dal wrestling, ha vissuto tutte le esperienze più divertenti ed emozionanti possibili. Signori e signori, stiamo ovviamente parlando di The Rock!
Aaron Brimhall il motociclista
Esiste qualcosa che ti rende più maschio alpha di guidare in giro per il mondo la tua motocicletta? Sappiamo tutti benissimo che la risposta è: no!
Il nostro Aaron Brimhall ce lo ricorda coi suoi magnifici scatti e con un fisico che urla: "Guardatemi! Siete inferiori!".
Vladimir Putin
Il profilo Instagram ufficiale dell'uomo più importante e potente della Russia. Non serve spiegare perché ogni uomo dovrebbe seguire Vladimir Putin.
Chuck Norris
Chuck Norris, l'unico uomo i cui rubinetti rotti invece di perdere, vincono! I suoi micidiali calci rotanti potete seguirli anche su Instagram!
Il miglior compagno d'avventure è a quattro zampe
Esiste qualcosa di meglio di compiere grandi imprese oltre le normali possibilità umane? Ovvio, se puoi avere questa soddisfazione portandoti dietro gli amici a quattro zampe. Dopotutto, puoi definirti un vero uomo se hai bisogno di un altro uomo? Camping With Dogs è servito!
Hugh Hefner
Il nostro Hugh Hefner, leggenda vivente del genere maschile, ci ha da poco lasciati. Il minimo che possiamo fare è rendergli omaggio anche su Instagram.
Hugh Jackman
Il profilo Instagram di Wolverine, serve aggiungere altro?
Mens Wear Clothing
Mens Wear Clothing insegna agli uomini di tutto il mondo cosa significa vestire con stile, per sembrare un vincente in ogni occasione.
Tattoos
Tatuaggi d'ogni tipo e da ogni parte del mondo, ingredienti segreti della formula del leader maschio. Se ci aggiungete anche le belle ragazze che fanno da "tela", non potete chiedere altro! Tattoo Inspiration è qui!
Bere birra intorno al mondo
Garnet Heart è un blogger di Denver che viaggia intorno al mondo assaggiando birre d'ogni tipo. Ogni foto è uno spettacolo, ogni birra è un incanto.
Il meglio del parkour
La pratica del parkour lascia sempre senza fiato chi la osserva. Forza di volontà, forma fisica e tanta capacità di coordinazione sono alla base di questo "sport cittadino" poco convenzionale.
Orologi da vendersi la casa
Gli orologi più costosi e belli affiancati da auto di lusso e donne stupende in Men Style Watch.
Sport Cars
Le auto più belle e lussuose da ogni parte del mondo. Un richiamo a cui nessun uomo può resistere!
Harley Davidson
L'account ufficiale della Harley Davidson, a sottolineare il legame viscerale fra un uomo e una bella motocicletta.
Beards Love
Fra i tratti che distinguono l'uomo dal "sesso debole", sicuramente vi è una bella barba folta da boscaiolo. In Beards Love ne avete veramente per tutti i gusti!
Weapons Maniac
Parliamoci chiaro, esiste forse un uomo a cui non piace, una volta tanto, perdersi in qualche film d'azione di serie b tutto muscoli e, soprattutto, armi che fanno un rumore assurdo? Tutto quel di cui avete bisogno lo trovate su Weapons Maniac.
Fishing with Flair
Andrew Flair è il pescatore YouTuber che entusiasma il pubblico con la propria bravura e simpatia. Potete ammirarlo in Fishing with Flair.
Martial Arts Thing
Le arti marziali rappresentano fra le forme di espressione più nobili del nostro corpo, per questo un uomo non può non seguire Martial Arts Thing.
Paintball
Se non si ha occasione di far la guerra per davvero, quale miglior modo di mettersi in mostra impugnando un fucile che spara proiettili di vernice? Via al Paintball!
Videogames
Videogames e uomini sono uniti fin dall'alba dei tempi in modo indissolubile. Nel profilo Videogames trovate qualsiasi tipo di materiale riguardante il mondo dei videogiochi.
Angela Nikolau
Sfidare la paura delle altezze costituisce una delle più grandi prove da affrontare per un uomo. Ma se a farlo fosse invece una bellissima ragazza che immortala il tutto con delle meravigliose foto? Eccovi Angela Nikolau!
Gol e azioni spettacolari
Una preziosa collezione di favolose azioni e gol, un piccolo angolo di paradiso per l'uomo amante del calcio.
F1
Il profilo Instagram ufficiale della Formula 1, per essere sempre aggiornati sugli eventi salienti di questo emozionante sport!
Nerdist
Anche il lato nerd dell'uomo deve essere soddisfatto e per questo c'è Nerdist.
Chef Rubio
L'account Instagram dello chef più unto di tutti i tempi. Commistione eccellente di testosterone e cucina!
Iscriviti alla newsletter di FlopTV
Riceverai il meglio del nostro peggio anche via email!

Iscrivendoti acconsenti alle condizioni d'uso di FlopTV