Floppy
I profili Instagram più strani da seguire
Instagram è un posto bizzarro, che può celare tante meraviglie ma altrettante nefandezze. Di seguito potete ammirare una rassegna dei profili Instagram più strani da seguire.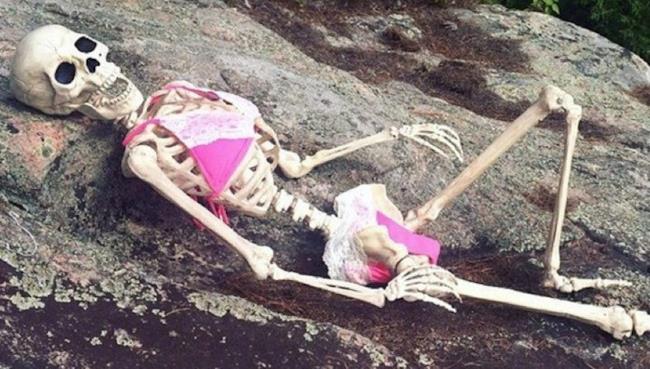 Instagram è un mondo tutto da scoprire, nel bene e nel male, un covo di stramberie, perversioni e cose eccezionali. Abbiamo pensato dunque di riunire in un unico luogo una carrellata con i profili Instagram più strani da seguire, quelli che riusciranno a stupirvi per argomenti trattati al di sopra delle righe, immagini non convenzionali e tanta, tanta ironia. 
Cooking for bae
@cookingforbae narra, tramite una serie di immagini, decisamente esplicative, tutti i tentativi falliti di preparare un bel pranzetto per la propria dolce metà.
"Ti piace amore? L'ho fatto per te!".
E il piatto schifoso è servito!
Lowcost Cosplay
Quando ci si cimenta nell'arte del cosplay, ma con scarsissimi risultati.
Ignoranza alla massima potenza e una dose di fantasia non convenzionale: tutto questo è @lowcostcosplay!
Bread Face
Fra i tanti tipi di feticismo esistenti, mai avremmo pensato di imbatterci nel feticismo verso il pane (!!). 
Diventato una vera moda con il successo del "breadfacing", la pratica in cui si è ripresi mentre si sbatte letteralmente la faccia nel pane, @breadfaceblog è il profilo dedicato a questa stranissima attività.
Quando pensi di aver già visto tutto nella vita... 
Ghost Real Picture Hantu
Come se non bastassero già tutte quelle trasmissioni su cacciatori di fantasmi e affini, ecco @ghost_real_picture_hantu, il profilo Instagram che documenta tutti gli avvistamenti segnalati con immagini, quasi sempre abbastanza discutibili.
Andate a lavorare!
The Alien
Immancabile il profilo Instagram che insiste sul fatto che gli alieni siano già fra noi!
Si tratta di @alien_exist, i cui contenuti si basano sulla tesi che spietati extraterrestri controllino i nostri politici!
Kama il maialino che fa surf
Come se Instragram non fosse già un posto strano, ecco il profilo che testimonia le imprese di Kama, il maialino che fa surf!
E in alcune delle foto, presenti su @kamathesurfingpig, il simpatico suino è affiancato anche dal suo amico di scorribande sulla tavola: un gatto surfista!
Non c'è limite al peggio!
Armpit Maniacs
Una nuova community si sta facendo strada in rete, la confraternita degli amanti delle ascelle!
Se siete estasiati o provate un profondo disgusto per una delle perversioni più "sudaticce" dell'uomo, allora iscrivevi o state lontani da @armpit_maniacs.
Taste of Streep
Come coniugare la passione per il cibo e per Meryl Streep?
Trovate la risposta in @tasteofstreep.
Preferite la Streep in salsa barbeque o mostarda? Dolce o salata?
A voi la scelta!
Socality Barbie
Come si comporterebbe Barbie sui social?
Esattamente come quello a cui state pensando: un po' come Chiara Ferragni, un po' come Francesco Sole. Insomma ci siamo capiti.
Queste elementi sono materia di @socalitybarbie.
Fattoni De Strada
Affollano le nostre strade e la prova lampante è questo account Instagram!
Una pittoresca galleria di fattoni, ragazzi e ragazze che amano alla follia le "sigarette che fanno ridere", li trovate su @fattoni_de_strada.
Putin Forever
Se amate alla follia il grande presidente Putin, @putin_forever è il profilo Instagram che fa per voi!
E ha persino più followers dell'account ufficiale!
Per una conquista dell'Ucraina in allegria.
Emi's Life
Emanuele Ferrari fa morir dal ridere con le sue maldestre imitazioni delle star del momento.
Su @_emilife fantasia e una giuste dose di ironia sono al servizio del divertimento: un profilo giustamente molto seguito!
Passenger Shaming
Qual'è il limite alla decenza su di un aereo di linea?
È la domanda a cui cerca di rispondere @passengershaming.
Il profilo ci mostra le testimonianze visuali dove passeggeri maleducati sbragano senza ritegno, sventolando fieri i piedoni puzzolenti, fanno ginnastica sfidando al gravità o dormono in posizioni degne del miglior fachiro!
Sciuragram
Quando le donne anziane milanesi continuano a dettar legge in fatto di moda, indipendentemente dall'età.
Un vero e proprio spettacolo su @sciuragram. Tanto di cappello alla "Milano vintage"!
Jeremy Veach
Quando un cane è artista e modello.
Immortalato in pose plastiche o nei momenti di relax, il nostro amico a quattro zampe riesce a intenerire, divertire l'osservatore e "bucare" lo schermo!
Il cane modello è su @jeremyveach.
Kirby Jenner
Ecco a voi Kirby Jenner, il fratello gemello inseparabile di Kendall Jenner!
C'è da morir dal ridere su @kirbyjenner, anche per chi non segue minimamente la famiglia Jenner sui social.
Baddie Winkle
Mai immaginato di incrociare tua nonna su Instagram?
Ecco, ora immaginala svampita come la Ratajkowski e fine come un camionista ubriaco!
Una curiosa commistione di risate e raccapriccio attende chi si avventura su @baddiewinkle!
Crap Taxidermy
Se la tassidermia non è il tuo forte, meglio lasciar perdere, o potresti finire nel museo degli orrori di @craptaxidermy!
Un profilo Instagram a metà fra il disgusto e il tragicomico. 
Miserable Men
Quanto riescono a sembrare miserabili gli uomini quando aspettano inermi mogli, fidanzate o sorelle durante infinite sessioni di shopping selvaggio?
La risposta a questa domanda è la materia trattata da @miserable_men: una divertente raccolta di uomini miserabili immortalati in tristi momenti.
Cash Cats
Come se i gatti non fossero già abbastanza virali in rete, arriva su @cashcats la moda dei gatti circondati da banconote, spavaldi e indifferenti, come sempre.
Noi però li veneriamo in ogni caso. Che masochisti che siamo!
Kids are the worst
@kidsaretheworst è il profilo Instagram dedicato ai bambini ma, soprattutto, a quanto riescono a essere devastanti, manifestando sempre un candore esemplare!
Un consiglio: date uno sguardo qui prima di metter su famiglia, altrimenti potreste ritrovarvi con sciagure del genere in casa.
Omg Literally Dead
Ricordate Weekend con il morto? Bene, immaginate il tutto ancora più strano e inquietante!
Questo è ciò che offre il profilo Instagram @omgliterallydead, ovvero come sarebbe la vita con uno scheletro per amico! Assurdo!
Tim Burton ne sarebbe fiero!
Pepe Dsgn
Giuseppe Pepe ha dato vita all'idea tutta italiana di un profilo Instagram con tantissime immagini con soggetti senza testa.
Poca dimestichezza con Photoshop, critica alla società moderna oppure semplicemente voglia di perdere un pomeriggio o due?
In ogni caso, il risultato ottenuto su @pepedsgn è sbalorditivo!
LePalle.it
Quante bugie rifiliamo alle persone che incontriamo e a quelle che amiamo?
Su @lepalle.it trovate una raccolta di tutte le più comuni "palle di cortesia".
Ammettetelo, quante volte le avete dette? Inutile negarlo.
Tubesleepers
Per qualcuno è difficile riuscire a schiacciare un pisolino in metro, per altri no. Ciò è dimostrato da @tubesleepers, profilo Instagram pieno di foto di persone che dormono in metropolitana senza problemi. 
Ti potrebbe interessare anche:
Iscriviti alla newsletter di FlopTV
Riceverai il meglio del nostro peggio anche via email!

Iscrivendoti acconsenti alle condizioni d'uso di FlopTV